Explore the historic towns of Stratford-upon-Avon and Warwick your way, whenever you like!
Discover our Self-Guided Walking Tours
Vidi Guides is a smart audio guide app that creates immersive podcast tours throughout the UK and beyond. In collaboration with top experts and historians, Shakespeare's England and Vidi Guides have created two self-guided tours to enjoy when you visit Stratford-upon-Avon and Warwick.
The digital audio guides can be downloaded anytime directly on your smartphone! Download the VidiGuides app & begin your Stratford tour to explore the city independently and safely!
The Stratford-upon-Avon Tour
Join local historians Josh and Katie on a walk through the charming town of Stratford-upon-Avon. On this walk, we will discover historic buildings, beautiful architecture, and hear lesser-known stories about Shakespeare's life, and discover tales and mysteries that live on in this quaint market town.
The Warwick Tour
Take a walk through the historic cobbled streets and alleyways of Warwick. Learn about the towns mediaeval history and the iconic buildings which still stand today, including the Lord Leycester, St Mary's Church which houses the tomb of Robert Dudley, and of course, the town's magnificent Warwick Castle.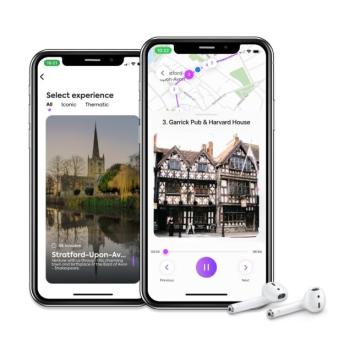 More About Vidi Guides
Vidi Guides provides self-guided podcast tours of Stratford-upon-Avon, Warwick London, Cambridge, Oxford and Paris. Working with top storytellers, historians, street artists etc. to provide sharp, engaging audio experiences of cultural sites, neighbourhoods and off the beaten track spots!
Vidi Guides is the official app of several cultural sites and they have partnered with Culture Trip to create experiences throughout the UK.