Immerse yourself in the enchanting world of Shakespeare's England as you prepare to indulge in the time-honoured tradition of afternoon tea. From a delightful Cat Cafe to elegant manor houses, the region offers a wide selection of unique and unforgettable venues. 
Join us as we explore these hidden gems, where every moment is carefully crafted to ensure an extraordinary experience. Allow yourself to be swept away by the charm, ambience, and enjoyable treats that await you in Shakespeare's England. 
Shakespaw Cat Cafe: A Whimsical Tea with Feline Friends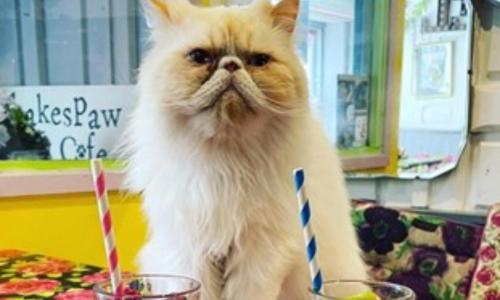 Prepare for an afternoon tea experience like no other at the Shakespaw Cat Cafe. Located in the picturesque town of Stratford-upon-Avon, this charming venue combines the delights of afternoon tea in the company of feline companions. As you savour freshly brewed tea and delectable pastries, adorable rescue cats roam freely, creating a heart warming atmosphere. It's a purrfect destination for cat enthusiasts, families, and friends seeking a unique and memorable experience.
Highly recommended is their renowned 'Shakespaw afternoon tea' (£24.00pp) which includes a glass of Prosecco, a selection of artisan finger sandwiches (various fillings available), a large handmade scone with strawberry jam and clotted cream, a slice of cake and unlimited tea or coffee so, we hope you're hungry!
Mallory Court: Indulgence in Serene Luxury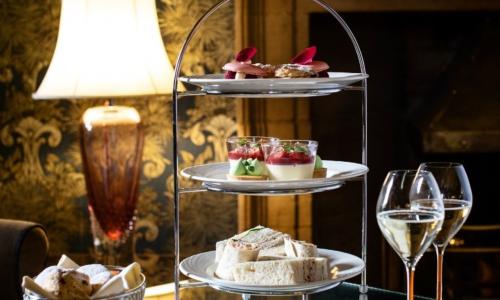 Step into a world of refined elegance at Mallory Court, a luxurious country house hotel nestled amidst picturesque Warwickshire countryside. With its magnificent decor and panoramic views, it sets the stage for an indulgent afternoon tea affair. Delight in a lavish spread of delicate finger sandwiches, warm scones with clotted cream and homemade preserves, and an exquisite selection of pastries and cakes. Impeccable service, attention to detail, and tranquil surroundings make Mallory Court an unforgettable destination for any special occasion or romantic rendezvous.
The Four Teas: Nostalgia and Delight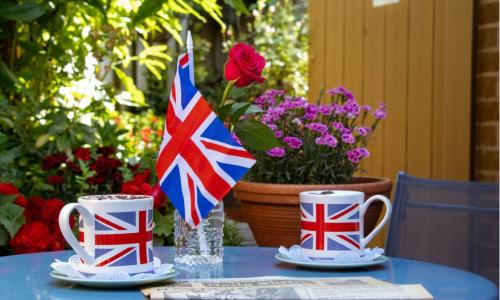 Transport yourself back in time to the 1940s at The Four Teas, a retro-themed tearoom in Stratford-upon-Avon. This delightful haven is a must for vintage enthusiasts and those seeking a touch of nostalgia. With its authentic decor, classic memorabilia, and a soundtrack of timeless tunes, this tearoom offers a unique atmosphere for enjoying an afternoon tea reminiscent of wartime Britain without the rations. Savour homemade cakes, scrumptious sandwiches, and perfectly brewed teas, and let the ambience whisk you away to a bygone era.
With afternoon teas being their signature dish, their selection does not disappoint.  The starting price of the afternoon teas begins at £27.00, which includes delicious handmade sandwiches, yummy scones with strawberry jam and cream, a cake of your choice, and a pot of tea!
Warwick Arms Hotel: Timeless Charm and Warm Hospitality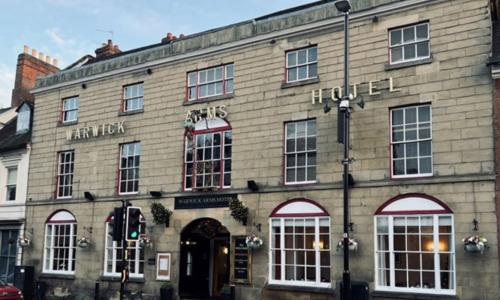 Immerse yourself in the historical allure of Warwick at the Warwick Arms Hotel. This elegant hotel in the heart of the town provides a delightful setting for a traditional afternoon tea experience. Step into the stylish surroundings and be greeted by warm hospitality where delicious sandwiches, freshly baked scones, and an assortment of sweet treats are served on exquisite china. With its inviting ambience and attentive service, the Warwick Arms Hotel offers a perfect retreat for families, friends and couples seeking a refined afternoon tea experience.
Their fantastic afternoon tea deal is £30.00 for two people!
Charlecote Pheasant Hotel: An Elizabethan Escape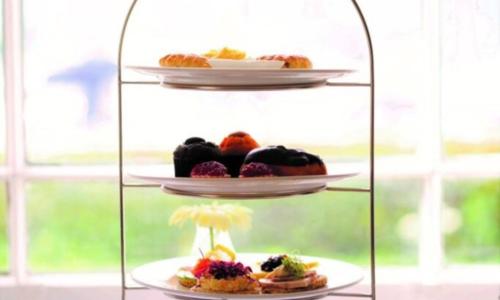 Nestled near the historic Charlecote Park, the Charlecote Pheasant Hotel combines history and indulgence to create a truly memorable afternoon tea experience. Soak in the atmosphere of an Elizabethan-era as you delight in a sumptuous selection of finger sandwiches, freshly baked scones, and an array of delectable pastries. The picturesque location, charming decor, and attentive service make this hotel an idyllic destination for a family outing, a friend's get-together or a romantic escape.
Their afternoon tea is priced at £19.95pp, and you can add a glass of Prosecco for an additional £6.00.
The Billesley Manor Hotel: A Historic Manor Retreat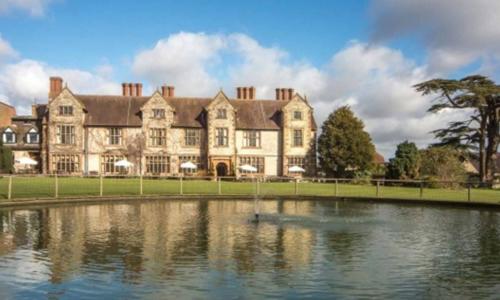 The Billesley Manor Hotel is a 16th-century Elizabethan manor surrounded by captivating, landscaped gardens and is the perfect setting for afternoon tea. Enjoy finely crafted sandwiches, warm scones with clotted cream and jam, and an array of heavenly cakes and pastries. The oak-panelled walls, crackling fireplaces, and impeccable service create a warm and inviting ambience for a memorable dining experience.
They offer three main afternoon teas: The Manor priced at £29.00pp, The Royal priced at £35.00pp and a Children's Afternoon Tea priced at £15.00pp.
Vintage Trains: Take pleasure in a Cream Tea on-the-go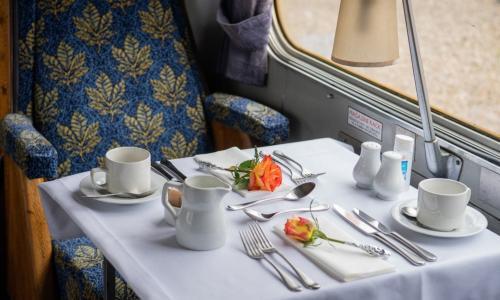 Enjoy a delightful afternoon tea experience aboard a vintage steam train. Departing from either Birmingham Snow Hill or Birmingham Moor Street, this excursion takes place every Sunday until the 3rd of September.
The journey takes you through the breath taking landscapes of Warwickshire, where rolling hills, meadows, and quaint villages unfold outside your window.
At your seat, an enjoyable afternoon tea awaits, featuring a selection of exquisitely crafted sandwiches and freshly baked scones served with rich clotted cream and sweet jam, promising to take your taste buds on a wonderful journey.
Tickets are £59.95 per person for adults and £39.95 for children, which includes a scrumptious afternoon tea and a complimentary drink of Prosecco or a soft beverage. Treat yourself to an unforgettable day filled with charm, elegance, and the joy of steam train travel.
Now there's only one thing left to do… Add one of these fantastic places to your Shakespeare's England itinerary and get ready for your taste buds to thank you!  Whether you're on a girls' day out, a family outing, or a romantic date, be sure to tag us in your afternoon tea photos!
Fid more information on places to enjoy afternoon tea in Shakespeare's England here.