October Half Term has arrived in Shakespeare's England, and with it comes a host of hauntingly good Halloween themed activities and days out for the whole family to enjoy. If you are looking for ways to entertain your little monsters for the holidays then you have come to the right place! Here's our handy guide to Halloween and Half Term in Shakespeare's England.
Halloween Fun at Mary Arden's Farm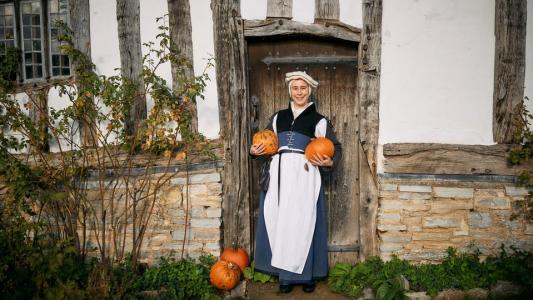 Head to Mary Arden's Farm on selected dates this half term to discover spooky Tudor superstitions and compare them with the Halloween traditions of today. Little ones can also have a go at crafting their own protection charm and concocting their own potion using herbs and flowers from the Farm's Tudor Garden. 
Visitors can also take part in an interactive retelling of one of Shakespeare's spookiest tales, Macbeth, before finally picking and carving a pumpkin.
Available on Tuesday 31st October, Thursday 2nd and Saturday 4th November. 
Pre-booking is essential with tickets costing £17 for children and £8.50 for an accompanying adult – to include all activities and a pumpkin to take home. The interactive events are suitable for children aged 4+ with under 3s admitted for free.
Pumpkins and Pirates at Fairytale Farm
From 21st-29th October there will be plenty of pumpkin and pirate themed fun to be had at Fairytale Farm. Meet the Pumpkin Pirates on Patch Island where you'll learn a sea shanty and a pirate jig, and to speak pirate! Visit the 'Jolly Roger Pumpkin Patch' where each child will receive a free pumpkin before they can head to Captain Pumpkin's Carving Marquee to carve a Jack-o'-Lantern or decorate their pumpkin with paints. Visit dressed up as a pirate or pumpkin for a Scarily Ever After treat as you arrive.
Haunting Half Term Fun at Warwick Castle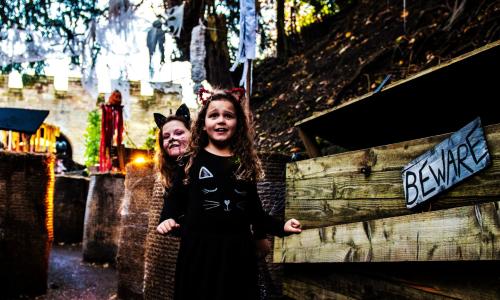 Warwick Castle's spookiest residents invite you to join them for half-term Halloween fun at The Haunted Castle. Enjoy mysterious mazes, eerie entertainment, and frightful delights for the whole family as over a thousand years of haunted history come to life this October half-term.
Enjoy fun and games on the Dead Centre Stage in the Castle Courtyard, enrol in Spooky School, enter the Haunted Hollows (if you dare!), or capture ghosts and help solve the clues to lift a spooky curse in the family friendly Castle Dungeon maze.
Book tickets online via the Warwick Castle website.
Follow the 'Vile Veg' Trail at Charlecote Park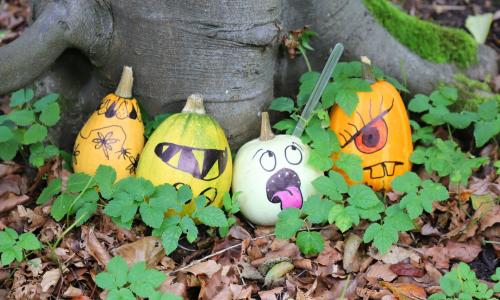 Grab some fresh air and blow off the cobwebs as you follow the Vile Veg Trail at Charlecote Park. Discover fun vegetable games and learn interesting facts about food waste along the way to earn a non-pumpkin-based prize. 
There will also be a 'Pumpkin Party' community Halloween display throughout half term, as well as kids crafty sessions on Wednesday 1st November.
Visit the Charlecote Park website for more information.
Join the Monster Hunting Academy at Kenilworth Castle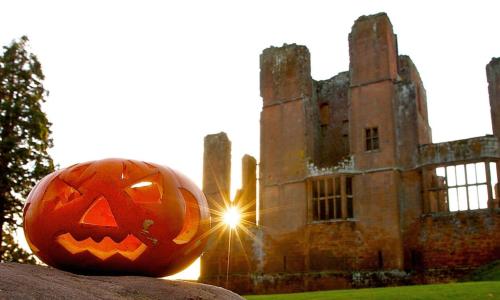 From Saturday 21 October to Friday 3 November, you can take part in an especially spooky Halloween quest at Kenilworth Castle. You are cordially invited to join Professor Hyll's Monster Hunting Academy! Learn how to capture monsters, fiends, ghouls, vampires, and witches! Delve into the vast knowledge of eminent experts such as the Wise Woman, the Grave Digger, and the Phantomologist where you'll master the art of recognising and exorcising a wide array of eerie creatures this Halloween. Remember to collect your stamps along the way!
Click here to book your tickets online in advance, and save! 
Enter The Witching Hour at Magic Alley Stratford-upon-Avon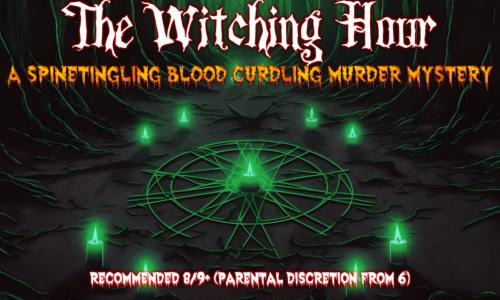 Head to Magic Alley Stratford-upon-Avon in time for The Witching Hour - a spine tingling, blood curdling murder mystery 😱

There has been a murder at Magic Alley! Enter The Witching Hour, a Halloween Murder Mystery, where aspiring detectives are invited to uncover the truth behind a blood curdling crime! Experience an immersive Halloween themed experience filled with forensic puzzles, mind-bending riddles, and exciting challenges, as you work to solve the murder that has shaken the enchanted grounds. Unleash your inner detective, unravel clues, and unlock secrets in this spooktacular adventure!

The Witching Hour runs until Saturday 4th November, half term slots are available but limited so head straight over to the Magic Alley website to book!

(Not suitable for children under 6)
Follow a Road Map to the Future at the British Motor Museum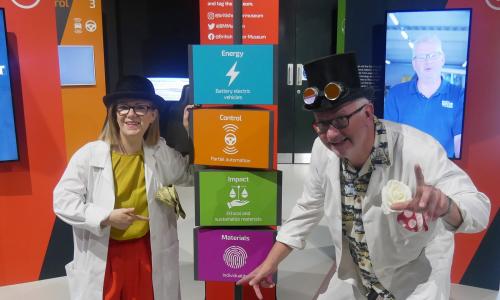 Catch a glimpse of the car of the future at the British Motor Museum from Saturday 21st October to Sunday 5th November.
The Museum's resident scientists take visitors on a Transitions Family Tour to uncover the museum's car collection – which is the largest in the UK – by focusing on four key themes of energy, control, materials and impact.
Visitors can then head to the museum's Learning Space to craft their own dream car of the future, or take part in the Fix It Trail by exploring the Museum to hunt for parts from past, present and future vehicles to build a new creation. Suitable for ages 5+ with adult supervision.
Book online via the British Motor Museum website. 
Ghostly Fun at St Mary's Guildhall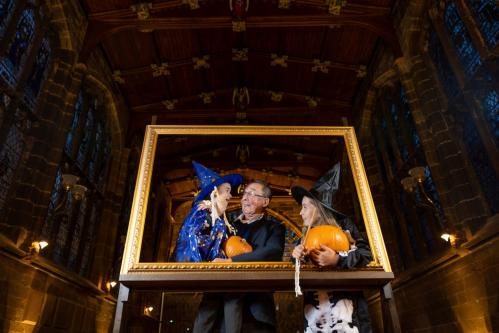 St Mary's Guildhall will be offering a string of Halloween events exploring real history and historic ghost stories in the heart of Coventry's Cathedral quarter this October half term. 
Gertie the Guildhall Witch is brimming with spooky tales and spellbinding fun, and is in need of curious guests to help find her missing cat. Visitors must follow the Halloween-themed paw print trail which will include rhyming clues that will be left throughout the ghoulish medieval building in the hope to find her feline friend Tap (available 28th-31st October).
There will also be hands-on activities in the Guildhall's medieval kitchen, hosted by the Guildhall's Tudors, including making cloth pumpkins and willow wands that can be taken away and used to get into the Halloween spirit.
Book online via the St Mary's Guildhall website
Creepy Crawly Fun at Stratford Butterfly Farm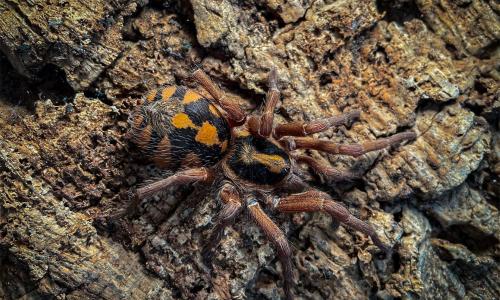 Stratford-upon-Avon Butterfly Farm is welcoming a new resident in time for October half term!  Aptly named The Pumpkin Patch, this stunning, beautifully coloured Spider will be on display in Minibeast Metropolis. 
From 28th - 31st October, staff will be dressing up in Halloween costumes and encouraging visitors to do the same, the spookier the costume the better! As Halloween approaches, gravestones will appear throughout the Butterfly Farm with messages warning what could happen if we do not look after our planet.
Visitors can also enjoy a series of workshops and live demonstrations throughout the week. 
Flutter over to the Butterfly Farm website for details.
Halloween at Shakespeare's Schoolroom & Guildhall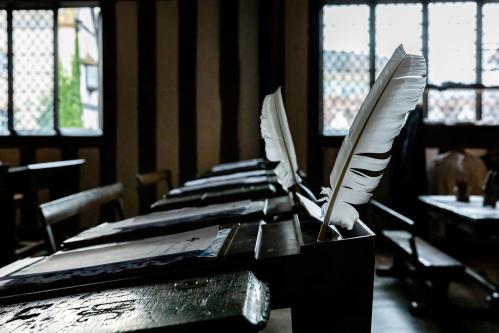 The witching hour will descend upon Shakespeare's Schoolroom & Guildhall in Stratford-upon-Avon just in time for some fiendish October half term holidays fun. From Saturday 28 October to Sunday 5 November it will be full of Family Friendly activities including a Family Witches' Trail that takes inspiration from the most apt Shakespeare play for Halloween, Macbeth.  All the activities are included within the ticket price.
The building will be decorated with colourful Halloween pumpkins and young witches, vampires and ghosts are encouraged to dress for the occasion.
Book your visit online here.
Stratford Ghost Walk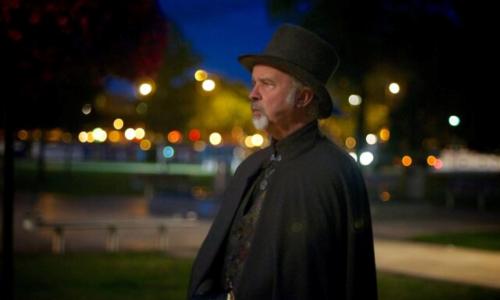 Join Stratford Town Walk as they embark on a special Halloween walking tour around the historic market town of Stratford-upon-Avon on 28th October and 31st October at 7.30pm and 8.00pm.
Your costumed storytellers will regale you with dark tales of Stratford past and present, come dressed for the occasion and prepare for a spooky time on Stratford's moonlit streets!
Book online here.
Haunted Happenings at St John's Haunted House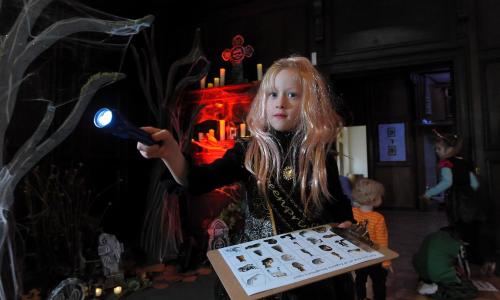 Get ready for a family friendly bone-chilling experience at St John's Haunted House in Warwick!
Get spooked as you explore rooms at St Johns House, see them as you've never seen them before. Discover the creepy story of Hansel and Gretel, go on a trail and hope the witch isn't in the kitchen! 
Make slime to take home and get messy making potions and enjoy messy play.
Adult tickets include a hot drink from Pickled & Tipsy Mobile Café, so you can sit back while your children make potions and slime. Undercover seated area available. 
Event runs 28th-31st October, tickets are £12 per child, £6 per adult, under 2's free and dressing up is welcomed for children and adults!
Book online here.
Stay a Little Longer
With so many things to do this half term, it's impossible to fit everything into one day so why not turn your visit into a short break?
Enjoy a family stay at the beautiful Mallory Court Hotel & Spa, or two adults and up to two children can enjoy a family escape at Coombe Abbey Hotel with free admission to St Mary's Guildhall for just £199. Details can be found here.
There is a wide choice of accommodation in Shakespeare's England, from peaceful country retreats and boutique town centre bolt-holes to cosy bed and breakfasts, and self-catering stays. Find a place to stay in Shakespeare's England here.
Keep an eye on our What's On pages for a full calendar of events and activities. taking place in Shakespeare's England all year round.
We wish you a spooktacular Halloween in Shakespeare's England - don't forget to share your stories and adventures with us on social media – #MyShakespearesEnglandStory.